GoodEye Museum
One of the Simplest, most engaging and affordable exhibits you will ever have.
You only need a green background and a sign.
All your visitors need is their smartphone and email account.
The rest is done in the cloud.
How it works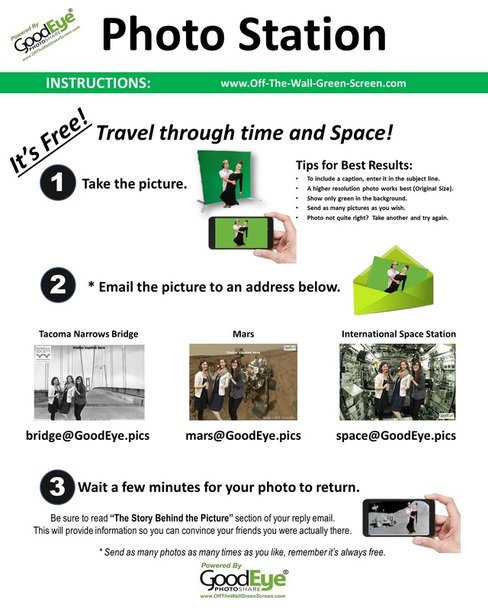 .

Off The Wall Green Screen:
An interactive tool to help museum professionals engage, educate and entertain their audiences.
.

Visitors travel through time using your museum's archival photos as virtual backgrounds.
Provide history lessons in "The History Behind The Picture" section of the reply mail.
Supplement existing exhibits or create a stand-alone installation in hours.
Promote upcoming events at in-house or community events and public venues.
No need to purchase apps, special cameras, photo equipment, or software.​
Low cost setup and low cost maintenance.
See The Results
GoodEye PhotoShare's Off The Wall Green services can be used as a turnkey component. We can design signage that allows the photo station to be used unattended or in conjunction with volunteers. The instructions include step-by-step directions on how to use the photo station and tips to use it properly. It's as simple as snapping a picture with a smartphone and emailing it. The instructions can event include a sponsor message and logo. With the signage being fully customizable, the possibilities are endless.