Background Photo and Overlay Specifications
Background file:
File Type: JPG file in RGB color format. We can also handle black and white and can convert the photo emailed in to B&L so that it looks like the person is part of the original background.

File Dimensions: The shortest dimension should be 1000 pixels or larger. When processed the outgoing photos are sized at about 1 Meg to preserve bandwidth. Since they are mostly viewed on a phone, that resolution works well.

File Aspect Ratio: Because these photos are not normally printed they can be any aspect ratio you wish. We have even placed people in panoramas. If you intend for these images to be printed the aspect ratio should match the paper size and be set at 300 dpi (dots per inch). For example if this is to be printed in 4x6 inches the background image should be 1200 pixels by 1800 pixels.

Composition: Select a background that has room to place the person in an area that doesn't obscure too much of the main subject. We can set the vertical axis anywhere in the photo.
Below is an example of placing the overlay of center in the photo.
Examples of subject center line placement.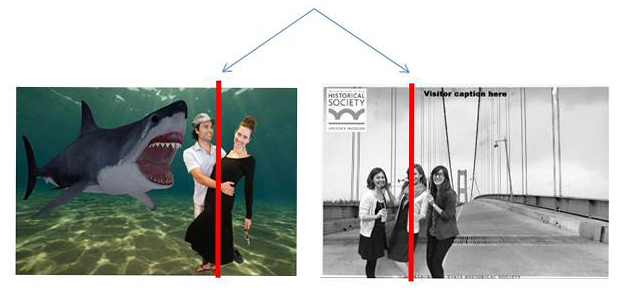 ---
Overlay Files for Logos:
File Type: Transparent PNG.
File Dimensions: Any size will work however the larger the better. I will reduce it to the size needed.

---
​
Email Body:Suggested Content:
If this is part of an exhibit you can include the story or lesson behind the photo and links to more information on the subject. This is a great opportunity to further educate your visitors.
Other possibilities for content:
Links to your calendar, fundraising, membership, etc. pages.
Links to sponsor sites
Logos and other graphics
Hashtags
Links to your Facebook and other social media pages
HTML (optional):
The body of the reply email is in HTML (web page format). If you are comfortable with HTML and would like this degree of creative control I am happy to accept your files. You will need to provide and area to display the image and the bottom of the email must have the "Powered by GoodEye" logo with link. Contact me for more details.