Photo Booth / Selfie Station
Off The Wall Green Screen Express
As seen around the country in Museum, Trade Shows,
Weddings, Bar-Mitzvahs, Galas, ​Political Campaigns, Parties, and Events.
Off The Wall Green Screen is a cloud-based selfie station/photo booth designed to engage, educate and entertain visitors and guests. Created for events, weddings, museum exhibits, public displays and trade shows, Off the Wall's power is its simplicity and low cost. Unlike its alternatives, no special cameras, printers, computers, personnel or phone apps are required, ​all you need is a green backdrop and a sign!
For Events:
What You Get: For as little as $250, price includes a green screen you get to keep, your guests will have their choice of 12 backgrounds. Place your guests on Mars, swimming with sharks, skydiving , running from dinosaurs and more. Guests can add personal captions and send Unlimited photos. Perfect for weddings, galas, fundraisers, bar-mitzvahs, corporate events or trade shows. *Add your logo to the photo. *Create custom backgrounds. *Collect email addresses and images in real time.

How it works: Guests take a photo in front of a green backdrop using their personal phone, than email the photo to a special email address. In a few minutes, they receive a reply with their green screen picture attached and the photo's back story (see instructions below).

Simple Setup: Hang a green backdrop, post instructions for the guests and you are ready to go.

No Special Equipment: You don't need special cameras, computers, printers, attendants or phone apps.
*Additionally charges apply for customizing backgrounds.
For Exhibits:Run for weeks or months at a time:

Select backgrounds relating to your exhibit thus further engaging, educating and entertaining your visitors. This can provide opportunities to promote your institution's future exhibits and activities while collecting visitor email addresses.

​

Off The Wall Green Screen features:

A fun, interactive attraction for guests of all ages.
Easy setup - You just need a green backdrop.
Low cost - Save 70% off the cost of a traditional photo booth.
No need to purchase apps, special cameras, photo equipment, or software.
We provide you with instructions for everything you need.
Your guests select from the 12 backgrounds below in our $125 photo booth package.
Logo and custom images can be added for an additional fee.
Signage for Guest Instructions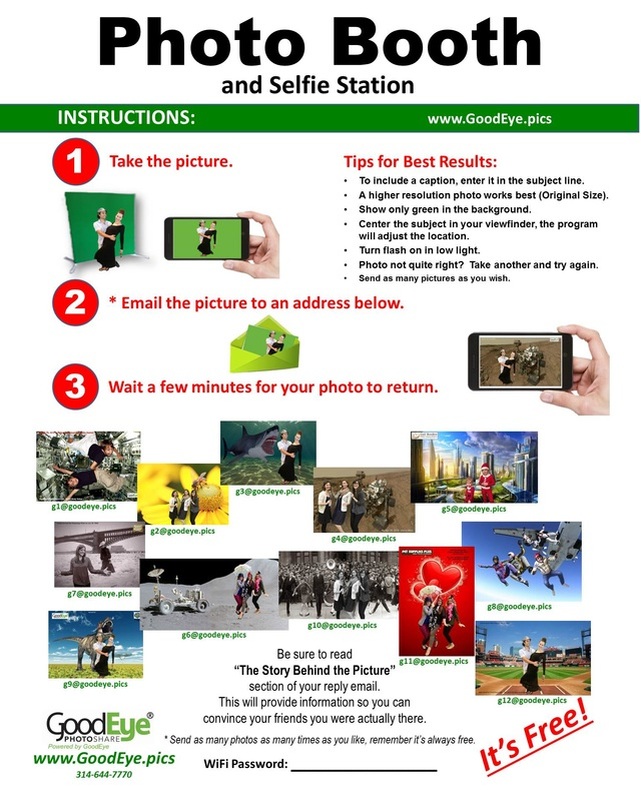 ---
Pricing for Service Without Attendant:
Base Service $150 for the weekend.
Signage printing, approx. $10 to $15 at local print lab. See photo poster site links below
​10 ft x 12 ft Green backdrop to hang on a wall $25. You get to keep the backdrop.
Receive real time copies of photos going to guests Add $50.
Place your logo or graphic on all photos Add $50.
Create your own custom background. Add $200 each image.
---
How do I get Off the Wall Green Screen:
Order Off the Wall Green Screen Service. Email Bruce@goodeye.pics or call 314-644-7770
Purchase green backdrop on Amazon ($25). ​


Print signage, example above,

Hang or erect green backdrop and signage on wall (use thumb tacks for wall mounting.) .

You are ready to go.
---