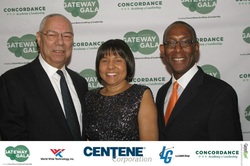 GoodEye PhotoShare
has helped make many non-profit galas and fundraisers memorable over the past 6 years. Many times our
open air photo booth
is not the highlight of the event entertainment. Many times a significant guest steal the show.
The keynote speaker for the First Annual Gateway Gala benefiting Concordance Academy was former Secretary of State Colin Powell. The retired US general stopped by our photo station and posed with guests at the event.
This event utilized a
custom photo banner
which included the major sponsors of the event. Each guest gets to take home a photo that they will treasure while the sponsors get to tie their brand to a meaningful cause.
The
Concordance Academy of Leadership
seeks to improve the lives of those who have been incarcerated and those of the communities they are a part of.
See the full gallery here.