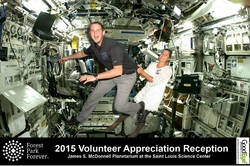 Forest Park Forever
has been working to care for and restore one of the greatest parks in the world, St. Louis' own Forest Park, for over 20 years.
GoodEye PhotoShare
has been a fixture at Forest Park Forever's signature events like the Fall Family Fun Fest, the Hiram W. Leffingwell Award Hat Luncheon, and its Volunteer Appreciation events, recognizing those who strive to make Forest Park great.
This year, they were looking to do a little something different that would make the keepsake photos from the event stand out and give their guests something truly unique to share. This year's Volunteer Appreciation event took place aat the St. Louis Science Center's James S. McDonnell Planetarium. After some discussion, we decided on giving their volunteers the once-in-a-lifetime opportunity to travel to the International Space Station!
Using our innovative digital
green screen background
software, we were able to send their guests to space!
The weightless effect you see in the photos was achieved by extending the bottom of a normal green screen backdrop out onto the floor, so guests could stand on the backdrops extension, letting us capture a full body shot of the subject surrounded in green. The photo was processed through our software and manipulated in a way to achieve the weightless effect you see in the photo above.
See the full gallery here on our Facebook page.
Contact GoodEye PhotoShare to see how we can make your events memorable!