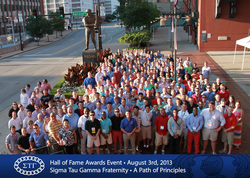 This past weekend GoodEye-PhotoShare was met with a challenge to photograph a
large group photo
. The initial request was asked by the National Fraternity of Sigma Tau Gamma to take a photo of their 230+ guests at the
annual awards ceremony at Busch Stadium
. Sigma Tau Gamma was the fraternity of the late Stan Musial and the group requested that they have the photo taken at the famous statue of 'The Man.'
The statue itself sits on the intersection of South 8th. and Spruce St. It's surrounded by a 50"x15'' planter, which would displace the majority of 230 guests in the photo. A straight shot of the guests and the statue would have required risers for the guests and the petitioning of the city to close the intersection so our photographers could take great photos we have become known for.
This got the staff at GoodEye PhotoShare
thinking. What if, instead of having risers for the guests to awkwardly file onto, and having to pay the city to send police officers down to close the intersection, we just put the camera
really
high in the air, and change the location of where the camera would need to be?
We ended up with a 15 foot pole that we could hoist our camera into the air with.
How did GoodEye PhotoShare do it?
Thanks to home grown GoodEye technology, we were able to modify our existing software to allow us to have a live view of what the camera was seeing, without the need of having a photographer leave the ground. (Except to click his heels once the photo was taken!)
The best part was that
everyone in the photo went home with a copy
of the picture they posed for, just a couple of hours before. Guests were able to take photos with the standard
GoodEye-Photoshare studio
, where we printed small group photos immediately, and then after dinner and an awards ceremony behind home plate at Busch Stadium, guests went home with the
large 5"x7" print
as a parting gift. Needless to say, everyone involved had a great time and will remember that evening for many years to come!